It was quite a week in European football. Quite a week. 
– VAR VARd at an all-time rate.
– Maurizio Sarri did the final preparations for his grand Stamford Bridge escape act (lots of smoke etc).
– JUVENTUS DIED.
– Schalke did a reverse Ajax and then reversed that.
– Manchester City DIED and then dramatically came BACK TO LIFE.
– Tuesday became "Entertaining" scoreless draw day.
– Atletico, held up like Jimmy MacElroy in Blades of Glory (by the balls), ROSE AGAIN.
So, in honour of Oscars week, here are 90min's DEFINITIVE European Power Rankings, powered by an assortment of quotes from the 2019 Best Picture nominees – except for Bohemian Rhapsody because, you know, it sucks.
15. Schalke (New Entry)
"I like being dead." (Roma)
Taking up the Ajax honourable losers spot, it's Schalke. To be fair, they weren't nearly as impressive or deserving as the Dutch side, but at least they tried, and were destined for a historic result before…well, they weren't.
It's no secret that the Gelsenkirchen side are enduring their worst Bundesliga season in the last 20 years, but Wednesday night felt like a massive opportunity to temporarily rid themselves of these diamonds. Unfortunately, and in a cruel twist of fate, they were haunted by former youth star Leroy Sane, who delivered the penultimate nail in the coffin. 
Clearly, they like it that way. 
14. Ajax (Up 1)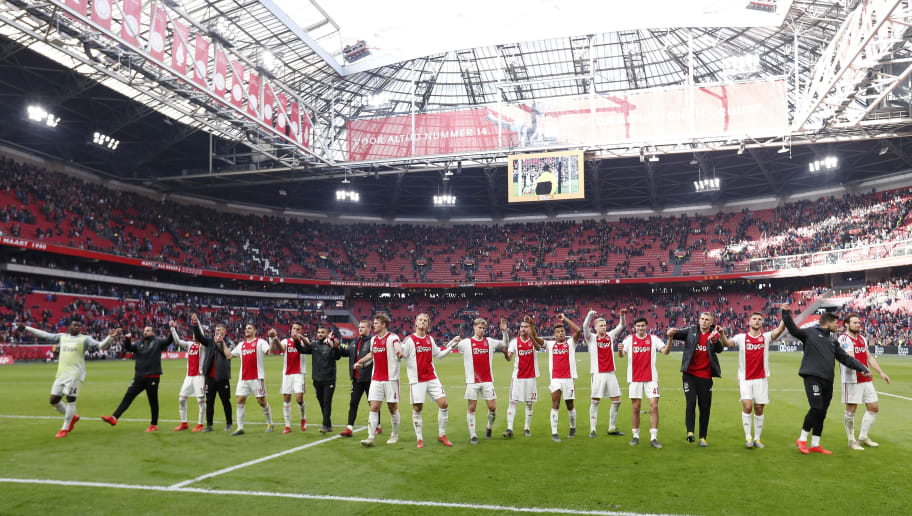 "'Must the duck be here?'
'Fastest duck in the city. Horatio is a prize worth stealing, he does not leave my side.'" (The Favourite) 
Ajax backed up their noble showing against Real Madrid with a 5-1 romping of NAC Breda in the Eridivisie. And, though he was not on the scoresheet, Frenkie de Jong again showed his quality after sparring admirably with Ballon d'Or winner Luka Modric.
Though his departure was almost inevitable, they might have heeded those words from Godolphin for at least a little longer. To be fair, though, Southampton will be feeling the same thing in regards to Dusan Tadic – because he did get on the scoresheet, twice.
13. AC Milan (Down 2)
"So we gonna do this thing, or what? I mean, is this happening?" (Vice)
After beating European Power Rankings favourites Atalanta 3-1 at the Atleti Azzurri d'Italia, Milan cemented their fourth-placed position in Serie A, despite having just have the home side's number of shots. 
They are now four points clear of Gian Piero Gasperini's side, who are sixth, and one ahead of Roma. So, is it happening? Are the Rossoneri finally making their long-awaited return to the Champions League? With Krzysztof Piatek banging them in like this, why not?
12. Lyon (Re-Entry)
 "'Hey!'
'What?' 
'I just wanted to take another look at you.'" (A Star is Born)
Because their league is largely irrelevant, and they haven't been making too many headlines in Ligue 1 anyway, little has been said of plucky Lyon. 
Yet, here they are again, frustrating high calibre opposition in Europe once again. I didn't have much else to say, except for *extreme Bradley Cooper doing Jackson Maine doing Sam Elliot voice* "I just wanted to take another look at you."
11. Real Madrid (Down 4)
"Some wounds do not close; I have many such." (The Favourite)
It seems that, despite allusions of recovery, Real Madrid remain a flawed side. One of their biggest problems, as Sunday's 2-1 loss to Girona illustrated, is the sharp decline of Sergio Ramos.
The Spaniard was sent off for two yellow cards at the Santiago Bernabeu, but he was also bad, and has been for a lot of this campaign. Will his wounds ever repair? 
10. Juventus (Down 8)
 "'Did he freeze?'
'Like an antelope in the headlights.'" (Black Panther)
That's right, when it really came down to it in the only competition they really care about this season, Juventus froze. Be it like an Old Lady or an antelope, they definitely froze. 
And, despite a statistically impressive enough season in Turin, Cristiano Ronaldo, the man they paid £105m with the explicit purpose of winning this competition, was fairly anonymous in Europe again. No, they're not the tenth best team in Europe, but this was their everything, and they've as good as blown it.
9. Borussia Dortmund (Down 1)
"What on God's green earth are you doing?" (Green Book) 
No, noo, noooo, noooooooooo. Stop it! Borussia Dortmund – what are you doing? How can you bottle this now. The long-reigning kings of 90min's DEFINITIVE Power Rankings are plummeting, and fast. 
Following up the embarrassing (especially for those who'd backed you for so long, FFS!) loss to Tottenham, the BVB went and did their best old Tottenham impression against lowly Nurnberg on Monday night, drawing 0-0. Snap out of it, lads, we've put too much on the line here for you to blow this now. 
8. Manchester United (Up 1)
"With the right white man, we can do anything." (BlackKlansman)
After five and a half years searching for the right man to succeed Sir Alex Ferguson, Manchester United have only gone and done it. And, well, yes he's white…because he's a manager in the Premier League and they're pretty much all old and white. 
But, at least Ole Gunnar Solskjaer, AKA the Baby-Faced Assassin, at 45, isn't as old as most of his contemporaries! That's a start, I guess, sort of. 
7. Bayern Munich (Up 3)
"I never yielded! And as you can see, I am not dead!" (Black Panther)
It's official. Bayern Munich are alive and kicking once again. 
They are now just three points behind former Kings of Europe (at least in these parts) Borussia Dortmund, have taken a slight (I said slight, Liverpool fans) advantage into their last 16 tie with the Reds. 
Sure, a goalless draw may not have been the most exciting way of showing it, but they're not dead yet, baby.
6. Barcelona (Down 2) "The world's full of lonely people afraid to make the first move." (Green Book) 
After not watching a second of Barca's clash with Lyon – because, c'mon, who's enough of a football hipster to forgo Bayern-Liverpool for THAT? – my two takeways are as follows:
A) THAT IS A DISGUSTING KIT GET IT OFF MY SCREEN, WHY DOES IT EXIST?
B) La Blaugrana probably should've done better, but they're also not as lonely as Lyon so they'll be sure to make the first move at the Nou Camp, or something. 
5. Liverpool (Up 1)
"Hello, my fellow Americans. They say we may have lost the battle but we didn't lose the war." (BlackKklansman) 
There we go, Liverpool fans. No mockery here. Just some nice words of encouragement. I mean, sure, you could construe that 'Americans' label as some kind of claim that your club is just an American hedge fund in disguise, but why go looking for these things? 
Just enjoy your generous bumping up the rankings. 
4. Tottenham Hotspur (Down 1)
"I'm off the deep end. Watch as I dive in. I never the meet the ground. Crash through the surface, where they can't hurt us. We're far from the shallow now." (A Star is Born) 
Tottenham haven't played since their earth-shattering thumping of Borussia Dortmund this week, but it's only lost them one place in these here rankings. 
I've even seen some Spurs fans, who shall remain nameless *cough* stating their belief that the club can actually win the whole darn thing this year (that thing being the Champions League!!!). They're off the deep end, now. 
3. Paris Saint-Germain (Up 1)
"F*ck Kissinger, he's overrated anyway!" (Vice)
This joke only works if you can find the link between Henry Kissinger and Neymar Jr.
No? Me neither, so just imagine it's there. 
After dismantling Ole Gunnar Solskjaer's rampant Red Devils, PSG beat St Etienne 1-0 before dumping Montpellier 5-1. One guess as to who the only player to score in both was. 
Hint – he's pointing at him. 
2. Atletico Madrid (Up 1)
"I've waited my whole life for this. The world's going to start over. I'MA BURN IT ALL!" (Black Panther) 
THIS IS ATLETICO MADRID'S TIME.
I'm sure of it. They've waited at least my whole life for this, and I really think it's their year. True, it was less Killmonger and more (as alluded to) Will Ferrell in Blades of Glory, but the quote stands. 
1. Manchester City (-)
"It's a Bugatti Spaceship." (Black Panther)
I've officially run out of superlatives to describe Manchester City, and Bugatti Spaceship might be a nice new entry into the lexicon.
It's not that they were even that good against Schalke – they needed some sloppy, sloppy defending and some sloppy, sloppy VAR to kick them into action – but once again they got a result. The Germans were shouldn't have been a massive test, but they were, and City passed with flying colours. 
Let'