Real Madrid always seems to be saturated with a star-studded squad as well as local talent. 
With Cristiano Ronaldo's recent transfer to Juventus a done deal, Los Blancos were expected to break the bank with a world-class replacement. 
However, Real Madrid historically have a brilliant youth system that creates important new players and when a football jewel is born somewhere else in the world, the Merengues are usually on the front line ready to scout them and take them all the way to Spain.
Here are five talents to keep an eye on in the upcoming season who will battle to show they have what it takes to wear the prestigious all-white shirt.  
5. Jesus Vallejo
Jesus Vallejo started his career at Real Zaragoza, his home city in northern Spain.
The defender joined the Zaragoza youth set-up in 2007, aged only 10, and made his professional debut seven years later, leading the team's rearguard with outstanding personality.
It didn't take long before Real Madrid spotted the young talent. €6m later, Vallejo joined the Spanish giants and has since been once again at Zaragoza and then in Germany at Eintracht Frankfurt. 
Now that he has gained valuable experience and that he is back at Real Madrid, the 21-year-old is looking to gradually challenge the likes of Sergio Ramos and Raphael Varane. With just seven appearances, Vallejo has already made his debut for Los Blancos and is ready for more.
It is easy to get booked or sent off when you are a defender – so it may well be that, if a starting central defender is forced to skip a match, Vallejo will be there to close the gap. 
4. Theo Hernandez
Theo Hernandez represents a reliable left back for the Galacticos and potentially a vital player for the future of the club.
Whilst his brother Lucas plays for rivals Atletico in the eastern area of Madrid, Theo joined Real in 2017 on a six-year deal, bagging himself a Champions League at his first attempt. 
The previous season, Hernandez was on loan at Alaves, reaching surprisingly the final of the Copa del Rey. Tenacious and hard-working, the French defender was a pillar of the Basque football club.
With 13 appearances in one season so far for Real Madrid, Hernandez has already shown that he is highly capable of competing with charismatic and experienced players like teammates Marcelo and Nacho.
3. Federico Valverde
In Uruguay, this young man is considered to be the heir of Inter midfielder Vecino and may figure in La Celeste's central midfield alongside Rodrigo Bentancur.
Valverde, who spent  last season on loan at Deportivo La Coruna, enchanted Spanish fans with his dominance and creativity in the middle of the pitch, and always seemed destined to become a football player.
At the age of four, he had a prophetic dream: he could see himself play in a white shirt in front of an enormous crowd in a massive stadium. His parents told him off, as the white kit is emblematic of the Uruguayan team Nacional, fierce rivals of the family's favourite team Peñarol.
Eventually, Valverde did indeed grow up to become a Peñarol fan and entered the Manyas youth squad. Ultimately, though, that white shirt may have been Real Madrid's kit. And the massive stadium? The Santiago Bernabeu, of course.  
2. Borja Mayoral
From a city called Parla on the outskirts of Madrid, in which also Newcastle boss Rafa Benitez played as a professional footballer, comes a strong and determined striker: Borja Mayoral.
Very much like Spain international Alvaro Morata, Mayoral is an attacker who works a lot for the team and also fancies a goal when he has the opportunity. As former Madrid coach Zinedine Zidane said, the 21-year-old is a predator in the opposition's box and "scores each time he has a shot".
Parla, his home city, literally means "to talk". One old legend narrates that a mute lady was miraculously able to speak after drinking water from a spring in the same city. 
In the same way, Mayoral could be a fresh start for Real Madrid's future attacking force, aspiring to the achievements of a club's heroic legend, with whom he has been constantly compared: Raul.
1. Vinicius Junior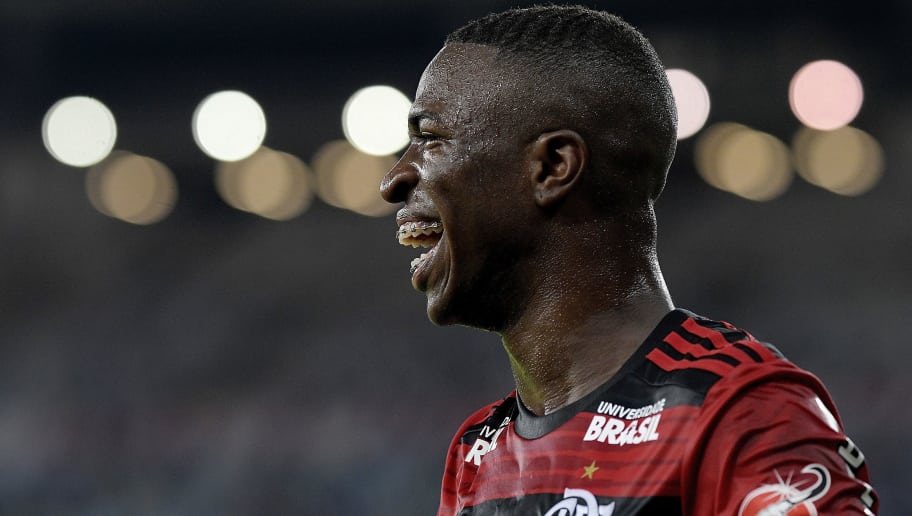 A very exciting prospect is the 18-year-old Vinicius Junior, the Brazilian striker that has played for Flamengo all his life.
Real Madrid managed to secure him for a staggering fee of €46m and are ready to display the most promising youngster of the year. 
Speedy, a real dribbler and a constant threat to the opposition, Vinicius is a masterclass on the ball and has the charisma of an expert player, as if he has been playing football for centuries. 
On the other side, he is pretty much like any other teenager. He says he will miss everything now that he is away from home, in a different reality and in a different way of living – but his different and exquisite style of play is what all of Europe is waiting to admire and Vinicius has no intention to disappoint.
Let'