Manchester United manager Jose Mourinho seems hellbent on picking an argument with anybody who dares to listen currently – fuelling speculation that he set for an Old Trafford departure.
His highly publicised feud with Paul Pogba has dominated the headlines recently, with daily revelations about their acrimonious relationship emerging in the press. Mourinho is known to be a confrontational character, and has had his fair share of fallings out over the years, with players and manages alike.
Here, we spin you through nine players that have spectacularly fallen out with their Portuguese manager.
9. Anthony Martial
Anthony Martial is an example of one of Mourinho's more recent fall outs with a player, seemingly stemming from the Frenchman's lacklustre performances during the latter half of 2017/18 season.
Martial was reported to have rejected a new contract at Manchester United around that time, while he was then thrown into conflict with Mourinho when he left the club's summer tour for the birth of his second child, only to then not return when expected.
It was heavily rumoured that the manager had had enough and wanted rid of the player, with Old Trafford chief Ed Woodward ultimately stepping in and refusing to sell because of 22-year-old Martial's vast – still untapped – long-term potential.  
8. Pedro Leon
Mourinho took a major disliking to talented midfielder Pedro Leon during his time at Real Madrid, apparently once telling the player that even if the team plane crashed and he was the only person left available he still wouldn't play.
Ex-Real goalkeeper Jerzy Dudek stirred the pot in his 2015 autobiography, alleging that Mourinho disliked Leon's poor attitude, labelling him 'unprofessional' and calling him out in front of the rest of the squad after a rather lazy looking warm-up during a game. 
Leon, who accused Mourinho of bullying prior to rejoining former club Getafe, contested Dudek's version of events in 2016, declaring on Twitter: "Enough with the lies. I want to clarify that these declarations are completely false."  
7. Iker Casillas
Real Madrid legend and club captain Iker Casillas eventually found himself benched by Mourinho after their relationship, which had begun in 2010 without issue, badly deteriorated during the Portuguese coach's time in the Spanish capital.
Rumour has it that Mourinho was less than pleased by Casillas' diplomacy where Barcelona were concerned, getting together with opposite number Xavi to try and dampen the growing animosity between the two warring clubs for the sake of the Spanish national team.
If that was the seed of the discontent, the falling out came for real during the 2012/13 season after results failed to match the previous title winning campaign. Casillas was dumped as starter when Diego Lopez signed and didn't get his place back until a year after Mourinho left.  
6. Sergio Ramos
The fall out that Sergio Ramos had with Mourinho during the 2012/13 season came as a direct result of the manager's harsh treatment of Casillas, with the Spain star and fellow defender Pepe both credited with standing up to Mourinho.
It is even said to have reached the point where Ramos and Pepe both threatened to leave the club because of Mourinho. A 2013 report from Marca alleged the pair had even approached Florentino Perez with the message: "Presi, in June, either Mourinho leaves, or we will…"
As it was, Ramos, who has since gone on to become Real captain and win four Champions League titles, didn't have to go through with the threat because Mourinho left the club by 'mutual agreement' at the end of the campaign.  
5. Samuel Eto'o
Having won the Champions League together as part of an historic treble with Inter, Mourinho and Samuel Eto'o had a bit of a tiff when the Cameroonian striker later wound up at Chelsea.
During what he thought was a private conversation but was later reported by French media, Mourinho suggested that Eto'o might be a few years older than his official age, with age fraud known to have been a problem in African football.
"The problem with Chelsea is we lack a scorer. I have one [Eto'o] but he's 32. Maybe 35, who knows?" the Portuguese had said.
The response from Eto'o was to later brand his boss a 'fool'. And while Mourinho denied that their relationship had been damaged, Eto'o barely played for Chelsea after that and left after only one season to join Everton.  
4. Luke Shaw
Manchester United defender Luke Shaw has been on a rollercoaster ride with Mourinho over the last two years. Now, the left-back is a favourite and regular starter, but even just a few months ago the situation looked rather different.
Mourinho singled out Shaw for criticism when United lost against Watford in September 2016 and rarely pulled any punches when publicly talking about his shortcomings. Several months later, the boss suggested Shaw didn't have a brain, while earlier this year it was reported that United stars were stunned by the way that Mourinho appeared to be 'bullying' the player.
Shaw was perhaps more in need of an 'arm-around' approach, although the poor treatment did seem to spark a reaction because he put in extra work over the summer and has seemed hell bent on proving himself over the last few months. 
He's even come to Mourinho's defence in the wake of fierce recent criticism – a quite astonishing turnaround given their rocky start.
3. Kevin de Bruyne
Kevin de Bruyne's fallout with Jose Mourinho led to a swift departure for the Belgian midfielder when the pair worked together at Chelsea, though he'll probably tell you it was the best thing that could have happened to him.
The pair are said to have only spoken to each other on a couple of occasions, with one of them being when Mourinho opted to lambast De Bruyne for his performances in training, in front of his teammates. The Manchester City star unsurprisingly didn't stick around for much longer, opting to revive his career in the Bundesliga with Wolfsburg.
Mourinho publicly outed De Bruyne after his departure for being a cry baby, but that criticism seems to have spurred him onto achieving bigger and better things – with the attacking midfielder now operating among the world's elite.
2. Cristiano Ronaldo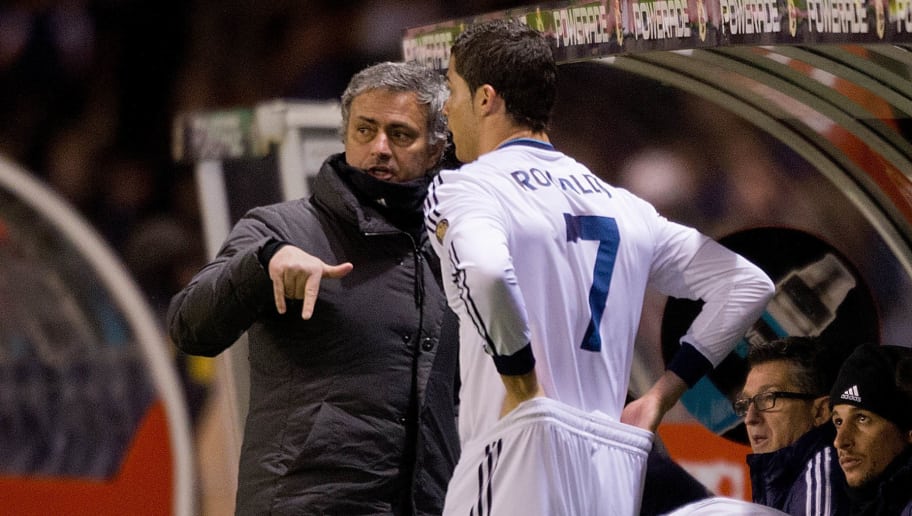 Sharing an agent and personal confidant in Jorge Mendes didn't stop Mourinho and Cristiano Ronaldo from rubbing each other up the wrong way during their time together at Real Madrid, as they apparently almost came to physical blows in the dressing room.
Guillem Balague detailed the account in his 2015 book on Ronaldo, explaining that the player took exception to Mourinho's request to track back and defend during a Copa del Rey clash with Valencia, escalating into a shouting match behind closed doors.
Mourinho has initially tried to remain calm in the face of Ronaldo's verbal onslaught, but soon had little choice but to give it back when his fellow countryman showed little sign of letting it go. Iker Casillas and Sergio Ramos were among those believed to have held Ronaldo back.  
1. Paul Pogba
Paul Pogba is proving to be Mourinho's latest major fall out, with the pair seemingly less than thrilled to be working alongside each. That latest gossip has it that Mourinho hasn't been a fan of Pogba since day one over the way his larger than life arrival was announced.
Mourinho stripped Pogba of the United vice-captaincy and was less than pleased about the World Cup winner filming and posting a video of himself laughing and joking while the team was being knocked out of the Carabao Cup in embarrassing fashion.
Pogba is thought to have his heart set on a move to Barcelona, with agent Mino Raiola reportedly agreeing a deal with the Catalan giants during the summer. If he does leave, it will be the second time Pogba has quit United after failing to see eye-to-eye with a manager.  
Let'